Training to officials of ICAR-CIFT & Crews of MV Matysakumari on LNG Handling Operations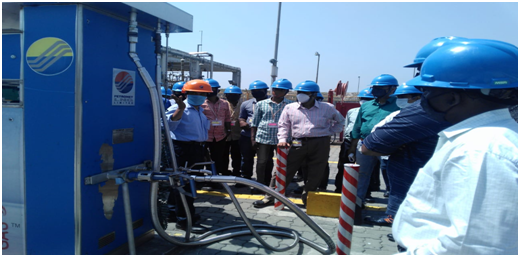 The ICAR-Central Institute of Fisheries Technology, Kochi, in collaboration with Petronet LNG Limited, Kochi Terminal, and Kerala State Development & Innovation Strategic Council (KDISC) is going to launch LNG Driven fishing boat first time ever in the country as a pilot project. The experimental fishing vessel of ICAR-CIFT,MV Matsyakumari has been selected as a pilot vessel for the purpose and necessary equipment has been installed in the vessel.  Since the use of LNG in fishing vessel is first of its kind in the country, it will be a boon to the fishing industry and oceans as far as green environment is concerned.
In connection with this anone day familiarization training to the Scientists, Technical and Crews members of the institute was arranged at Petronet LNG terminal Kochi on 08.02.2021. The training focused on how to conduct the trial and filling of LNG on board along with safety measures. Apart from these aspects, other areas covered were: familiarisation of LNG tanker; LNG live fire fighting demo; technical and safety aspects of LNG dispensing; importance of LNG in marine fuels; live LNG demo by lab department and terminal visit. A total of 29 participants from ICAR-CIFT attended the training programme.