ICAR-CIFT conducted International ITEC Course sponsored by MEA, Govt. of India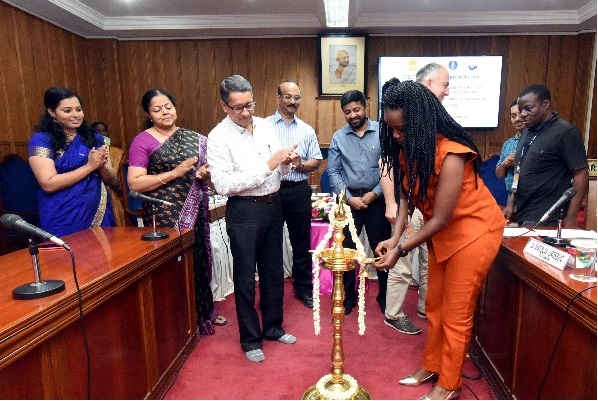 ICAR-Central Institute of Fisheries Technology (CIFT), Kochi organized an International Training Programme under Indian Technical & Economic Cooperation Programme (ITEC), on "Improving fishery based livelihood: Policies, Technologies and Extension Strategies" from 13-26 February, 2020 at its main campus in Kochi. This training programme is sponsored by under ITEC Ministry of External Affairs, Govt. of India to share India's knowledge in the field of science and technology with ITEC partner countries. Eleven executives representing 9 ITEC partner countries including Serbia, Ethiopia, Eritrea, Somalia, Tanzania, Tunisia, Cambodia, Kenya and Palestine are participating in the programme. Most of the participants are officials representing the fisheries departments and Universities in the respective countries.  
Inaugurating the programme on 13 Feb., 2020, the Chief Guest Shri Alex Ninan, President, Seafood Export Association of India (Kerala Chapter), in his address quoted the unique contributions being made by ICAR-CIFT to the Indian Fisheries sector including Seafood Exporting industries. Lauding the achievements of ICAR-CIFT for its quality and flawless technological contributions in harvest and post-harvest fisheries, he expected that CIFT can play an important role in transferring these promising technologies to overseas through ITEC programmes.
During the presidential address, Dr. Ravishankar C.N., Director of the Institute, emphasized on use of   innovative extension management techniques with a focus on need based technologies that are required to enhance the efficiency of technology dissemination in fisheries sector and expressed his gratitude to ITEC, Ministry of External Affairs, Govt. of India for selecting ICAR-CIFT as the potential research institute in Fisheries for holding ITEC International Training Programme for the 4th time in this year.
The CIFT-ITEC Coordinator and Course Director, Dr. A. K. Mohanty briefed about the ITEC initiatives of India, in general and specifically about CIFT's contributions for development of technical cooperation between India and the ITEC partner countries in the field of fisheries. While overviewing the programme, he elaborated on the exponential growth of Indian Fisheries sector and also pointed out the importance of extension system in the development of fisheries sector by linking it with research system.
A documentary film on ITEC programme of India was screened during the programme, which depicted the successful voyage of ITEC over a period of time. The Course Coordinators Dr. A. Suresh, Principal Scientist welcomed the gathering and Dr. S. Ashaletha, Principal Scientist offered vote of thanks during the occasion.