ICAR-CIFT inks MOU with KAU for transfer of technology on conversion of fish waste to wealth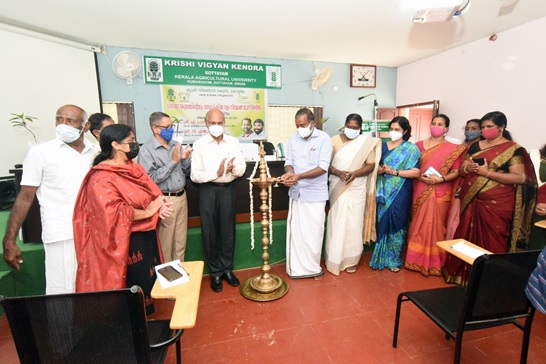 ICAR-CIFT, Cochin signed a MOU with Kerala Agricultural University (KAU) for transferring a novel technology of conversion of fish waste to fish manure that can be utilized for the growth of the horticultural crops. In this connection, a technology demonstration programme was organized in collaboration with KVK, Kumrakom, Kottayam under KAU on 8th January, 2022 under the SCSP component of ICAR-CIFT, which was graced by the Hon'ble Agriculture Minister, Govt. of Kerala Shri P. Prasad; Hon'ble Vice Chancellor, Kerala Agriculture University Dr R. Chandra Babu; Director, ICAR-CIFT, Cochin Dr Ravishankar C.N. and Director of Extension, KAU Dr. Jayasree Krishnankutty along with a galaxy of scientists from ICAR-CIFT and KAU. As an initiative under the Govt. of India flagship programme on Swachhata Action Plan (SAP); ICAR-CIFT established a fish manure unit at Krishi Vigyan Kendra, Kottayam and provided technical knowhow and hands on training for production of high-quality fish manure from fish processing discards. This programme helped in handholding the KVK, Kottayam for disseminating the fish waste management technology among the stakeholders in the region.
Inaugurating the programme, the Chief Guest Shri P. Prasad, Honourable Minister for Agriculture, Govt. of Kerala lauded the effort of ICAR-CIFT for developing such a promising and apt technology for converting fish waste into feed & manure and accentuated that this technology will help in effective management of huge volume of unhygienic fish waste dumping in the fish markets, processing / peeling industries throughout the state. He also pointed out that Kumarakom is a region encompassing the vast Vembanad lake that sustains the livelihood of many fishermen through commercial fish farming is the right place for intervention of this technology, which may give an impetus for boosting the entrepreneurship in fish waste management.
Speaking on the occasion, Dr R. Chandra Babu, Vice Chancellor, KAU applauded the initiatives taken by ICAR-CIFT to lead the state to move forward to attain the goal of organic farming through production of organic manure or fish feed from fish waste that can also be taken up as a better livelihood option for income generation.
Highlighting the importance of fish waste management; Dr Ravishankar C. N., Director, ICAR-CIFT, Cochin said that the technology will help in best utilization of nutrients found in fish waste for preparation of feed or manure. The feed enriched with essential nutrients can be stored in pellet form up to six months to ensure the regular availability of fish feed for the growth of fishes. The machineries can also be used to produce organic manure 'jaiva valam' which will benefit the horticultural crops. The fish manure unit installed at KVK, Kumarkom can be used by the fish farmers and crop farmers for production of organic manures from fish/ crop waste. In his address, he suggested that the Kumarakom Panchayat should explore ways and means to devise effective management of fish waste by using this technology.
The programme was followed by a training-cum demonstration on 'Fish waste management' coordinated by scientists from ICAR-CIFT namely Dr Zynudhhen A.A., Dr A. K. Mohanty, Dr V. Geethalakshmi and the Dr Jeyalakshmi, Head, KVK, Kottyam. More than 100 people including departmental officers, fishermen, fisherwomen and entrepreneurs participated in the programme.